Carmageddon driver
Brothers Grimm
Stiffshifter
Info
Internal opponent number
12
Strength (1 - 5)
2
Network availability
Never

---

Short name

(?)

Grimm
Race number
5
Top speed
230 mph
Kerb weight
1.2 tons
0 - 60 mph in
4.2 seconds
Stealworthy

No

Description
"The funeral funsters will deliver you straight to hell in style with their nitrous snorting hot-rod hearse."
They were strongly suggested to return, as Stainless released concept art of the "new" Stiffshifter. Added to the game in Update 4 (16th July 2014), there's only one Grimm... the other one is hand-puppet. Nobby stated that the other Grimm died between games, and the puppet is a coping mechanism for the bereaved brother. The late Grimm is currently located in the back of the Stiffshifter...
Carmageddon: Reincarnation driver
The Brothers Grimm
The Stiffshifter
Info
Strength
1.4
Short name

(?)

Stiffshifter
Race number
5
Top speed
150 mph
Kerb weight
1.6 tons
0 - 60 mph in
3.8 seconds
Description
"Grimm brother #1` lost Grimm brother #2 while racing to a cemetery. How ironic. Now he sticks his hand up his dummy brother's rear and pretends he's still here, while his deceased sibling resides in the coffin in the back of the Stiffshifter."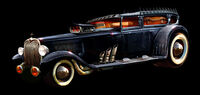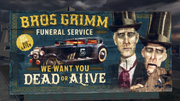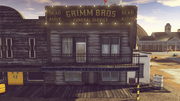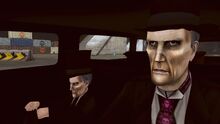 Trivia
[
]

The Brothers Grimm were also a pair of writers who published fairy tales.
In the PlayStation version only one brother is shown, and he looks like Gene Simmons from KISS.
In the 'Max's Junkyard' levels of Carmageddon II, an office can be seen for "Bros. Grimm Life Insurance".
In the intro of the first game, the hearse had a black roof and had longer pipes coming from the sides. Plus, the front of the car had circular headlights instead of square ones. Speaking of the front, only one headlight worked. The grill also looked more damaged too. The Hearse also didn't really rise up in the back. It just looked like a normal hearse.
In Carmageddon Max Damage when you open the doors on a car the horn normally honks. For the Stiffshifter it plays the opening of Toccata and Fugue in D Minor by J.S. Bach.

'Stiff' is a slang word for 'Corpse', so a 'Stiff Shifter' is a corpse mover (or as normal people call them, a Hearse)