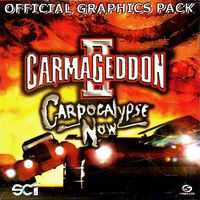 Carmageddon II: Carpocalypse Now - The Official Graphics Pack is an official CD to accompany Carmageddon II. Created by Stainless Software, this rare CD contains the following[confirmation needed]:
A bunch of new pedestrian skins
Blood patch, Zombie patch and Alien patch, Blood SuperPatch, Zombie SuperPatch, Upgrades
An exclusive slideshow screensaver
Most of the content (excluding the screensaver) is now available on the internet for free.
C·V·D·E
To Do: Establish contents, either by obtaining a copy or finding someone who has.
Care to do so?
See also
[
]