The Compact Unit: Nil Threat is a new police vehicle confirmed for Carmageddon: Reincarnation. [1]
The CU:NT is the newest addition to the cop squad. As opposed to the stronger, bigger armored police vehicles who have the job of taking down unlawful drivers, this little guy is aimed towards driving the police officers to more mundane judicial issues, like jaywalkers or litterers, or even helping stuck kittens.
Carmageddon: Reincarnation driver
Cops
Compact Unit: Nil Threat
Info
Strength
1.02
Short name

(?)

CU:NT
Race number
Unknown
Top speed
130 mph
Kerb weight
0.5 tons
0 - 60 mph in
3.1 seconds
Description
"Every "Compact Unit: Nil Threat" has a "Community Liaison Interactive Trainee" at its wheel, ready to respond instantly to anyone who dares rub them up the wrong way."
As a result, this vehicle is naturally less armored, and less bulky. As such, it'll be more easily destroyed by the player, and cause them less damage and overall annoyance. Because of this, they'll also be more common than the regular APC.
The CU:NT first appeared in a playable level during the Pre-Alpha stage, in the level Countryslide (one of the second pair of maps to be released).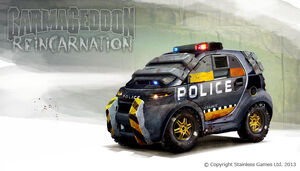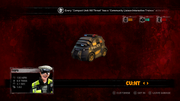 Trivia
[
]
The Compact Unit is based on a Smart car.

Nobby received a Smart as a loan car after his own classy Mercedes broke down. He detested it.

The vehicle is called CU:NT for short. We don't have to explain to you what it means.
References
[
]