Ed Lesgar is a new Driver in Carmageddon: Max Damage. He is the one of the 2 new drivers introduced in the game. He is a fictionalized version of Les Edgar, who used to work at Bullfrog Games, and is now the owner of British sports car maker TVR. He is listed in the Max Damage credits, with a special thank-you that reads "Without you, this game would not have been possible."
Carmageddon: Reincarnation driver
Ed Lesgar
KVN Toucan
Info
Strength
1.1
Short name

(?)

KVN Toucan
Race number
Unknown
Top speed
190 mph
Kerb weight
1.1 tons
0 - 60 mph in
3.0 seconds
Description
"Ed's suave huntsman style means he always looks like he's dressed to kill. When he isn't culling peds in his lusty V8 KVN, he's bagging them on foot in the field with his trusty shotgun."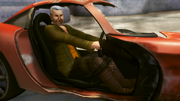 His car is the KVN Toucan, which is basically a TVR Tuscan with spikes on its front. It has a strong engine and good handling, but low offensive power.