Carmageddon driver
Firestorm
Tanka
Info
Internal opponent number
11
Strength (1 - 5)
4
Network availability
Never

---

Short name

(?)

Fire
Race number
99
Top speed
100 mph
Kerb weight
2.1 tons
0 - 60 mph in
8.9 seconds
Stealworthy

No

Description
"Crazed chem. worker Firestorm stole a company tanker and took to racing. The rig is big and the driver is brutal."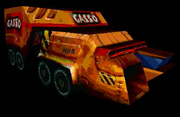 The description says this rig is big, but in game it's rather small... An early concept render shows the vehicle with a large tanker trailer attached to the cab (hence the name Tanka). The hinge for the rear trailer of the Tanka couldn't be executed correctly with the limitations of the BRender engine at the time and so the trailer was left out.