Carmageddon driver
Halfwit Harry
Lumberer
Info
Internal opponent number
14
Strength (1 - 5)
5
Network availability
Never

---

Short name

(?)

Harry
Race number
26
Top speed
170 mph
Kerb weight
1.9 tons
0 - 60 mph in
9.4 seconds
Stealworthy

No

Description
"Harry will try to win at any cost, so he can lavish the winnings on his pet pig, Squealer. Best stay out of his way if you can."
Carmageddon II driver
Halfwit Harry
Loggerhead
Info
Internal opponent number
32
Strength (1 - 5)
5
Network availability
all

---

Short name
Harry
Gender

♂

Race number
110
Status icon
Top speed
140 mph
Kerb weight
20.0 tons
0 - 60 mph in
7.9 seconds
Cost
2,500,000 credits
Description
"Catch someone with this, and they'll wish they never got up this morning. Joust the job."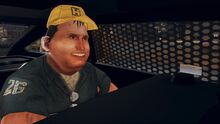 Harry has been confirmed to return, as Stainless released concept art of the Lumberer, along with steam trading cards.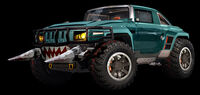 Harry is part of the nearest thing Carmageddon has to a family - he is the brother of Burly Shirley and distant cousin of Helga Shwein.
The term "at loggerheads" means 'unable to agree on a matter'.
Lumberer combines elements of the Bowler Tomcat and the AM General Hummer H1.
Lumberer appears as Honest John's vehicle in the PlayStation game.
Loggerhead is, unsurprisingly given the name, an industrial logging machine.
Harry must have disguised himself, as he appears in Carmageddon 64 under the name Mr. Whip.
In Carmageddon II, neither the Loggerhead or the Big Dump leave a pool of oil on the road when they're wasted.
The model for the Digga was re-used to create the Loggerhead. Apart from the wheels and the claws attached to the front, the vehicle is the same.

To further prove this, the model for the Loggerhead is called digbody, and the original textures are all prefixed with dig (aside from the Loggerhead-exclusive textures, which are prefixed with log).
Community content is available under
CC-BY-SA
unless otherwise noted.