Carmageddon driver
Heinz Faust
King Merc
Info
Internal opponent number
10
Strength (1 - 5)
5
Network availability
Never

---

Short name

(?)

Faust
Race number
4
Top speed
160 mph
Kerb weight
3.0 tons
0 - 60 mph in
7.6 seconds
Stealworthy
No
Description
"Teutonic terror Heinz has a supercharged superheavy sport coupe with go anywhere tank tracks... Don't get caught in his path!"
Carmageddon II driver
Heinz Faust
The Supastuka
Info
Internal opponent number
6
Strength (1 - 5)
4
Network availability
all

---

Short name
Heinz
Gender

♂

Race number
633
Status icon
Top speed
400 mph
Kerb weight
4.0 tons
0 - 60 mph in
4.2 seconds
Cost
395,000 credits
Description
"Now, here's something you don't see every day. A WW2 fighter-bomber for the road. Cool!"
Carmageddon (Game Boy Color) driver
Super Stuka
Info
Top speed
400 mph
Kerb weight
4.0 tons
Cost
16,000 credits
Description
"Now, here's something you don't see every day. A WW2 fighter-bomber for the road. Cool!"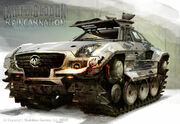 Heinz was confirmed to return for Reincarnation, with a concept art depicting an updated version of his King Merc from the original game.[1]
On the December 2015 update, Heinz was added to the game, with his car now named Blitzkrieger.

Heinz (in place of Hans) is obviously taken from the ketchup/beans manufacturer of the same name, while Faust was a German who sold his soul to the Devil for knowledge.

Faust is also the German word for "Fist". One well-known use is the "Panzerfaust", a German anti-tank rocket launcher used in WW2, which can be translated as "Armored Fist".

Stuka comes from "Sturzkampfflugzeug", meaning "dive bomber". Yes, the Stuka was a German WW2 fighter bomber! The particular model Heinz flies - er, drives - is a 1937 Junkers Ju-87.

The Stuka divebomber is tied closely together with tanks (panzers) through blitzkrieg tactics, where ground attack aircraft closely supported the attacking tanks.

In TDR 2000, the King Merc appears as a new model, driven by Hans Kristoff Havocstein.
The original Carmageddon's King Merc was apparently based on a fourth generation Mercedes-Benz SL, despite having SLK rear lights and a body similar to a W140 coupe.
Judging by the mug shots, Heinz picked up some scars during the first Carmageddon.

His scarred eye is now glazed in Reincarnation.

Heinz Faust wears a German uniform and drives a German car which he converted into a tank.

Heinz Guderian was a German general and famous commander of great panzer divisions during WW2. In the last year of the war he became Chief of the General Staff of the Heer.
Additionally Heinz Guderian was one of the key figures in developing the Blitzkrieg tactics in the interwar period, as well as giving guidelines for the panzer development before the WW2.

The number "four" on his tank means "vier" in German which is exactly pronounced like the word "fear".
The Reincarnation design for Heinz includes rollerboots with tank tracks... it's been done.
The Blitzkrieger is very closely based on the Mercedes-Benz SLS AMG.