Carmageddon driver
Ivan the Bastard
The Bear
Info
Internal opponent number
15
Strength (1 - 5)
3
Network availability
All

---

Short name

(?)

Ivan
Race number
28
Top speed
150 mph
Kerb weight
1.4 tons
0 - 60 mph in
9.4 seconds
Stealworthy

Yes

Description
"With a Ukraine-manufactured monster truck and vodka-manufactured hangover, Ivan's black mood makes him a dangerous competitor."
The Bear is to return in Carmageddon: Reincarnation.
Carmageddon: Reincarnation driver
Ivan the Bastard
The Bear
Info
Strength
1.7
Short name

(?)

The Bear
Race number
Unknown
Top speed
155 mph
Kerb weight
1.6 tons
0 - 60 mph in
3.9 seconds
Description
"Moody as a black bear in a Siberian snow storm, vodka veins Ivan is a man of few words… Until he spits his dummy out."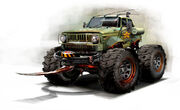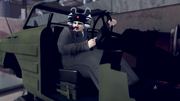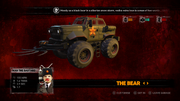 The Bear was added in Update 3 on 18th June in grey box form. It also has multiple, sickle-like blades that constantly rotate like a circular saw, which is different to the concept art.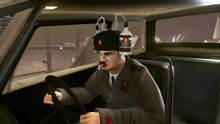 Trivia
[
]
Ivan was a nickname used by Americans for Soviets during the Cold War (as "Jerry" was for the Germans during World War II).
The character's name is likely inspired by Ivan the Terrible, a mentally ill Russian tsar, famous for his raging personality.
His car resembles the Lada 2105, also known as the Lada Riva.
Strangely, In Carmageddon: Reincarnation The Bear is a right-hand drive vehicle, altough as it is bassed on a Russian-made Lada/UAZ vehicle it should have been a left-hand drive vehicle.