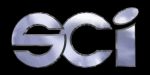 Sales Curve interactive, better known as SCi, was the videogame publishing company that published all 3 games in the Carmageddon series.
Established in 1988, SCi were based in London, England. They owned the rights to the Carmageddon series. In 2005 the company gained ownership of Eidos Interactive, another British games company. After merging with them, they released games exclusively under the Eidos name.
In February 2009, Eidos PLC was bought in a takeover by Square Enix, effective as of 22nd April 2009. They remain an independent subsidiary.
In June 2011, Stainless Games confirmed they bought the rights to Carmageddon back from Square Enix.[1]
External links
[
]
References
[
]