Carmageddon TDR 2000 driver
Tetsuo
The Machine
Info
Internal opponent number
21
First appearance
The Slums
Network availability
normal

---

Short name
Tet
Gender

♂

Race number
Unknown
Top speed
170 mph
Kerb weight
2.1 tons
0 - 60 mph in
4.4 seconds
Cost
390000 credits
Description
"I am Man and Machine."
Trivia
[
]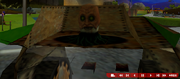 Tetsuo was the antagonist in cyberpunk manga (later anime film) Akira, a psychic who eventually becomes a gigantic cyborg-like monster. It is however more likely the character in TDR2K is referencing the low-budget movie Tetsuo: The Iron Man, where a Japanese salaryman transforms into a machine hybrid.
He's not kidding; If the roof is knocked off, the player can see that Tetsuo is merely a head wired into the vehicle. Even a large portion of that head looks to have been replaced with machine parts.