The Terrible Twin was the first new racer to be confirmed for Reincarnation. Described as separated conjoined twins who can "re-attach" to each other,[1] they drive the Siamese Dream, a large vehicle which is essentially two aircraft fuselages joined by a jet engine.[2] An early in-game render was revealed in a later blog.[3].
Carmageddon: Reincarnation driver
The Terrible Twin
Siamese Dream
Info
Strength
1.9
Short name

(?)

Siamese Dream
Race number
1369
Top speed
700 mph
Kerb weight
2.0 tons
0 - 60 mph in
1.4 seconds
Description
"The recently separated conjoined twins can zip themselves back together if they're feeling lonely. Their crazy ride is the twinning of two fighter jets, perfectly configure to cut a dashing ped in two."
Concept art of the Twin(s) was one of the wallpapers / postcards delivered to Kickstarter backers (later forming part of Carmageddon.com's background).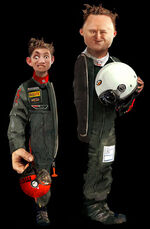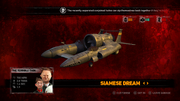 Trivia
[
]
The official term for the driver(s) condition is conjoined twins: 'Siamese Twins' may be the more commonly used term, but it's the less politically correct one... makes sense they're called the latter in Reincarnation, then.

The term came about because the most first known (and most famous) people with the condition were Siamese (from Siam, the old name for Thailand).

Siamese Dream is an album by Smashing Pumpkins.
Proposed mechanics for Siamese Dream include dismembering pedestrians caught on the front blade, shredding peds with the jet turbine, and the ability to drive a single half by itself if the other is missing.
Nobby had the idea that the twin with the large arm would be in charge of steering, while the twin with the larger foot would control acceleration/braking.
Gallery
[
]
References
[
]